The impact of the Corona Virus Disease (COVID-19), continues to be felt all over London and the UK. With such a wide variety of information sources available it's important to receive and share accurate information, so that you can take the necessary steps to keep yourself, your family and those you care for safe.
This page will provide residents, carers and professionals with accurate information sources so that everyone in Lewisham can help themselves to keep safe and well.
The precautions and advice we should all be following are changing rapidly, ensure you keep up to date with what you need to do to protect yourself and others by reading the latest advice from the Government UK.
Government cracks down on spread of false coronavirus information online
The government are tackling a range of harmful narratives online – from purported 'experts' issuing dangerous misinformation to criminal fraudsters running phishing scams.
Specialist government units are operating to combat misinformation about coronavirus and five to ten incidents are being identified and tackled each day.
Find out more about fraud and scams related to coronavirus further down.
Government launches Coronavirus Information Service on WhatsApp
The Government has launched a GOV.UK Coronavirus Information service on WhatsApp. The new free to use service aims to provide official, trustworthy and timely information and advice about corona virus (COVID-19), and will further reduce the burden on NHS services.
LSAB partners are working hard to maintain essential services in Lewisham.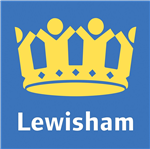 Lewisham Council has a dedicated Coronavirus COVID – 19 webpage where you can find accurate, up to date advice and information including:
Lewisham Council – Newsletter – Latest advice
Sign up to receive a newsletter with the latest corona virus advice from Lewisham Council.
Find out how corona virus is affecting the delivery of public services nationally.
Health Advice
The NHS has dedicated, accurate and up to date health Corona Virus COVID-19 information available on their website.
If you think you or someone you care for may have the symptoms of Corona virus you can check their symptoms on the NHS Symptom Checker.
It is important that we all follow the advice from the Government and the NHS and do not attend your GP surgery or A&E if you have the symptoms of Corona virus but follow the advice on their websites.
GP video consultations for Lewisham residents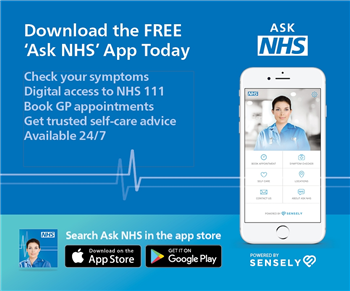 Residents who are unwell whilst isolating due to the Corona Virus and are worried about having to leave the house to see their GP, the ASK NHS app now has a Video Consultation function to allow patients to see their own Lewisham GP from home using their Smartphone.
Ask NHS doesn't replace your GP but instead complements them and is supported by all Lewisham GP's.
Over 32,000 Lewisham residents are already signed up and using it to book GP appointments and manage their health well-being.
The App is free to download/use and is available for both Apple and Android (search for 'Ask NHS').
Public Health England has produced an easy read guide on what corona virus is, how you can protect yourself and what to do if you become ill.
.
Coronavirus (COVID-19) Advice and Guidance for Professionals and Adult Social Care Providers
Providers of health and social care working in the Community can find the latest advice for councils and care providers from SCIE as the government works to delay the spread of COVID-19.
CQC Issue COVID-19: interim guidance on DBS and other recruitment checks
CQC has issued interim guidance on DBS and other recruitment checks, for providers recruiting staff and volunteers to health and social care services in response to coronavirus (COVID-19).
CQC has issued this interim guidance in response to temporary changes being made by the Disclosure and Barring Service (DBS) to DBS applications and processes. It will be in operation for the period the Coronavirus Act 2020 remains in force.
COVID-19: Guidance for Health Professionals
Information on COVID-19, including guidance on the assessment and management of suspected UK cases.
COVID-19: Guidance on Social Distancing and for Vulnerable People
Guidance has been published by the government on social distancing for everyone in the UK, including children, and protecting older people and vulnerable people.
COVID-19: guidance for residential care, supported living and home care
Residential care, supported living and home care in the event of a coronavirus (COVID-19) outbreak.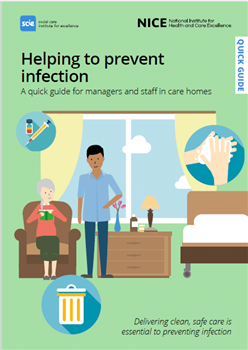 Helping to prevent infection in care homes – A quick guide for managers & staff
Social Care Institute for Excellence (SCIE) has a useful guide for Managers and staff in care homes that can help during the coronavirus outbreak. The guide acts as a reminder of the most important methods of preventing infection such as:
Hand decontamination
Personal protective equipment
Sharps
Waste disposal
Education and information
Coronavirus (COVID-19): admission and care of people in care homes
Guidance on How to protect care home residents and staff during the coronavirus outbreak.
Q&A Coronavirus (COVID-19): Questions and answers for social care
Social Care Institute for Excellence (SCIE) and Department of Health & Social Care asked for your questions on how the COVID-19 pandemic is affecting care services.
Questions from social care professionals with answers from the Minister of State for Social Care, the Social Care Institute for Excellence and NHS England.
Guidance on shielding and protecting people defined on medical grounds as extremely vulnerable from COVID-19 -24-03-2020
"How do these measures differ from the social distancing guidance for vulnerable people issued?"
The guidance is for people, including children, who are at very high risk of severe illness from corona virus (COVID-19) because of an underlying health condition, and for their family, friends and carers. It is intended for use in situations where the extremely vulnerable person is living in their own home, with or without additional support. This includes the extremely clinically vulnerable people living in long-term care facilities, either for the elderly or persons with special needs.
People who are identified as at very high risk will be written to by the NHS. Everyone who receives a letter are strongly advised to stay at home at all times and avoid any face-to-face contact for a period of at least 12 weeks from the day they receive their letter (this is called "Shielding").
Lewisham Council – Shielding the most vulnerable
Information about shielding, a measure to protect the extremely vulnerable residents of Lewisham.
Coronavirus Act 2020 – Temporary easing of legislative and regulatory requirements
Professionals should be aware that the Coronavirus Act 2020 (enacted 25 March 2020) has introduced temporary legislative and regulatory easing.
The easing includes:
NHS Continuing Health Care assessments
This provision allows NHS providers to delay undertaking the assessment process for NHS continuing health care (NHS CHC) until after the corona virus outbreak has ended.
Temporary amendments to the Mental Health Act 1983
Allowing a single approved practitioner or single registered medical practitioner to undertake certain functions, and extension of time limits relating to detention and transfer of patients.
NHS and local authority care and support
Covers three provisions:
Provision that in a corona virus outbreak a Local Authority (LA) may lawfully prioritise who and what type of needs it will meet, rather than being required to meet all eligible assessed needs as specified under the Care Act 2014.
Provision that in a corona virus outbreak LA's may lawfully determine whether and the extent to which it will carry out assessments of individuals' needs or review care plans, or carry out financial assessments, rather than being required to carry these out in all cases required by the Care Act 2014 as at present.
Provision for the Secretary of State for Health and Social Care to direct LA's in relation to the prioritisation of services to meet care and support needs in accordance with guidance issued by the Department of Health and Social Care.
Care Act easements: Guidance for Local Authorities
This guidance sets out how Local Authorities can use the new Care Act easements, created under the Coronavirus Act 2020, to ensure the best possible care for people in our society during this exceptional period.
COVID-19: Information Governance and Information Sharing Guidance
During the outbreak of COVID-19 carers, social care professionals and clinicians need to be able to talk to each other and to the people they care for.
Under the Health and Social Care (Safety and Quality) Act 2015 it is legal to share information to support a person's care.
Government notification of data controllers to share information to support efforts against coronavirus
Notification of data controllers in healthcare organisations, GPs, local authorities and arm's length bodies that they should share information to support efforts against coronavirus (COVID-19).
Social Distancing and Self-Isolation – Increased Risk
We know that social isolation is an increasing risk factor in relation to abuse and neglect. In particular, we know that incidences of domestic abuse, self-neglect and carer stress will increase with social isolation. With more people being asked to self-isolate as a result Covid-19 this needs to be a key consideration. Social isolation can mean:
Abuse/neglect is hidden from professionals or others;
People do not get the support they need;
People feel like they do not want to ask for help for fear of being an added burden;
Increased household stress and tension;
People ask for help from people who might want to take advantage of their vulnerable position.
Services in Lewisham that continue to offer help, advice and support
If you are worried about a loved one, or about self-isolating with a perpetrator, please call the National Domestic Abuse Helpline on 0808 2000 247 or contact the Helpline via Refuge's contact form at www.nationaldahelpline.org.uk.
The Athena service, run by Refuge, provides confidential, non-judgmental support to those living in Lewisham who are experiencing gender-based violence.
Telephone 0800 112 4052 Email [email protected] Website Athena Service
The Lewisham Voluntary, Community and Social Enterprise Sector
Lewisham Local, Voluntary Services Lewisham and Age UK Lewisham & Southwark are all working with Lewisham Council and all local partners in the community to co-ordinate a response to help the most vulnerable in our community. Please note: the agencies listed above have suspended most if not all of their normal services to co-ordinate efforts and respond to Covid-19.
The community response will focus on:
The provision of accurate, up to date information
The delivery of food and wider supplies to vulnerable individuals
Befriending and social isolation support, using phone and IT techniques wherever possible
Support to those who are looking to volunteer or assist directly in their local area
Providing toolkits for community action to ensure that people are safe as they support each other
People in need of support or other professionals wanting to find out more or connect up efforts can go to Lewisham Local website.
Safeguarding Adults at Risk through the Corona virus Epidemic: What do Volunteers Need to Know to Keep Themselves and Others Safe?
With the outbreak of corona virus, community groups and volunteers are increasingly crucial in supporting individuals at risk.
With that in mind, if you are volunteering within your local community, or you are hiring volunteers, it is important that you safeguard yourself and others from harm and abuse.
The Anna Craft Trust has published information to help.
If you would like to report a safeguarding concern please contact Lewisham Council
Safeguarding Factsheet: Community volunteers during COVID-19 outbreak
The Government has published a factsheet which is designed to address specific concerns that people involved in supporting their community may have at this time.
Lewisham Carers Information, Advice and Support (IAS) Service 0203 886 0970 continues to operate (remotely).
Neighbourhood Carer Support Officers continue to be available between 9am to 5pm Monday to Friday to support carers in Lewisham.
Carers Lewisham continue to accept referrals for unpaid carers that support someone aged 18 or over living within the borough of Lewisham and will be able to provide support via telephone or email.
Carers Lewisham at Waldram Place will be closed from Wednesday 18th March until further notice.
Scams and Fraud
Reports of scams related to the Corona virus have been increasing. Examples of the types of fraud include phishing emails such as this one about Free School Meals.
Others have mainly involved internet shopping for hand sanitizer, face masks etc. where deliveries have not materialised.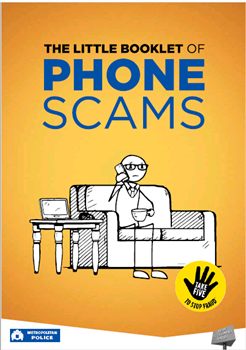 Metropolitan Police Service has produced a helpful guide to telephone scams. The information in the Little Booklet of Phone Scams includes examples of the most common types of telephone scams, tips on how to protect yourself and how to report scams.
Keep up to date with the latest advice on personal fraud from Metropolitan Police Service.
Keep up to date with the latest scams relating to the Coronavirus from Action Fraud.
SMS Messages from the UK Government
Tuesday 24 March 2020 the government texted people across the UK to inform them of the new rules announced by the Prime Minister 23 March 2020. This was made possible with the cooperation of all mobile phone operators. The SMS message reads:
"GOV.UK CORONAVIRUS ALERT New rules in force now: you must stay at home. More info & exemptions at gov.uk/coronavirus Stay at home. Protect the NHS. Save lives."
The SMS looks like this:
This message is NOT a fake text message (SMS) but is a new way for the Government to spread their safety advice as widely as possible and it is safe for you to follow the link to the government website.
You should exercise caution when receiving text messages, never supply your personal information or bank details including your PIN. Never click any links in texts. If in doubt, go directly to the website and type the address given into your browser
Safeguarding Children – Coronavirus
If you need information on safeguarding children, Lewisham Safeguarding Children Partnership have been working hard to ensure there is a wide range of up to date information and resources on their website.
Lewisham Council – Staff Peer Support and Wellbeing Helpline
The Staff Peer Support Wellbeing Helpline has been formed as a response to acknowledge the stress, anxiety, and fear raised by the current COVID-19 crisis. The helpline offers council employees and associates the opportunity to offload and talk through their concerns with peers who are able to offer guidance and support.
New! 16-04-2020 Guidance for those who provide unpaid care to friends or family
This guidance is for anyone who cares, unpaid, for a friend or family member who, due to a lifelong condition, illness, disability, serious injury, a mental health condition or an addiction, cannot cope without their support. The guidance gives helpful information and sources of further advice on hygiene, collecting medication and getting further help if care arrangements break down.
The guidance builds on other guidance published on GOV.UK, including the Stay at home guidance and the Guidance on social distancing for everyone in the UK and protecting older people and vulnerable adults.
New! 16-04-2020 Being vigilant against fraud
Law enforcement, government and private sector partners are working together to encourage members of the public and those providing support and care to be more vigilant against fraud – particularly about sharing financial and personal information – as criminals seek to capitalise on the COVID-19 pandemic.
The Take five to stop fraud campaign offers advice to help everyone protect themselves from preventable financial fraud. Information, advice and resources are also available on the Friends Against Scams website.
New! 16-04-2020 Scam text tells people they have been fined for going out during lockdown
People have been warned not to fall for a bogus text message saying they have been fined for stepping outside during the coronavirus lockdown. more
Bogus volunteers scam OAP on coronavirus lockdown out of shopping
A criminal has stolen £400 from a pensioner stuck in coronavirus isolation by offering to go shopping for him, only to pocket the cash. The 81-year-old man, who has dementia, was targeted by a thief who called at his Oxford home last Friday and preyed on his vulnerability. more
New! 16-04-2020 Free refresher training for health and care professionals returning to work
Blue Stream Academy are offering a set of 'Essential Refresher Training' modules, available free of charge, to any professionals returning to work within the health and social care sectors. These modules are available to both clinical and non-clinical staff, and are designed to refresh returning staff members on the essential training required to safely deliver patient-centred care at this difficult time.
For more information please visit the Blue Stream Academy website, or register for access by getting in touch with CQC https://www.bluestreamacademy.com/contact-us/
New! 16-04-2020 NHS asks people to share their coronavirus symptoms to help others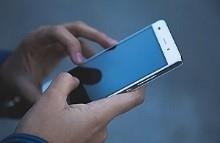 A new Coronavirus Status Checker will help the NHS coordinate its response and build up additional data on the COVID-19 outbreak.